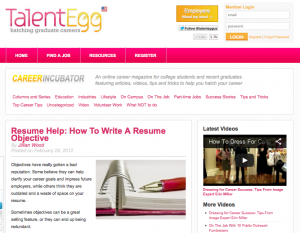 As an Assistant Editor at TalentEgg.ca, a career portal for students and recent graduates, I had the opportunity to pitch and write stories for a Gen-Y audience. This was a virtual internship where I was required to edit the work of my peers on a weekly basis and contribute the website's comments and forum.
Below is a sampling of stories published between May to December of 2010.
Is A University Degree Worth $1 Million?
To Write A Resume Objective Or Not – Alternatives To The Objective
How to talk about your greatest personal accomplishment in a job interview
My LinkedIn Makeover: The Basics
My LinkedIn Makeover: The Final Touches
How To Hatch A Career In Accounting Without Accounting-Related Education
3 New Jobs In Internet Marketing And Sales, And How You Can Get One
The Top 5 Ways To Use Your Holiday Downtime To Find A Job
5 Questions You Shouldn't Ask During Your Interview
Resume Help: How To Write A Resume Objective